Gated content is one of the most effective lead generation tools in the content marketer's arsenal. It can, however, be a little tricky to decide which of your content assets should be "locked" behind a gate, what information you should solicit from your prospects in exchange for access, and where exactly in the sales and marketing funnel gated content should be deployed.
We will be answering all of these questions in this blog post, and will be providing some examples so you can see how marketers are using gated content for lead generation today. But, before we delve into use cases and strategies, let's first define what gated content is (and isn't) so we're all on the same page.
What Is Gated Content?
Put very simply, gated content is any type of content that your website visitors are only able to access once they've provided their contact information – usually their name and email address, though more information can be solicited if deemed necessary. This contact information is typically submitted via a lead capture form.
So, you may like to think of the form itself as the "gate" that guards the content, and a visitor's contact information as the key that unlocks it.
Here's an example of a lead capture form from cloud computing and CRM (customer relationship management) company Salesforce, which wants visitors to submit their name, job title, email address, phone number, company name, company size, and location in exchange for access to free demo videos of the Salesforce CRM solution in action.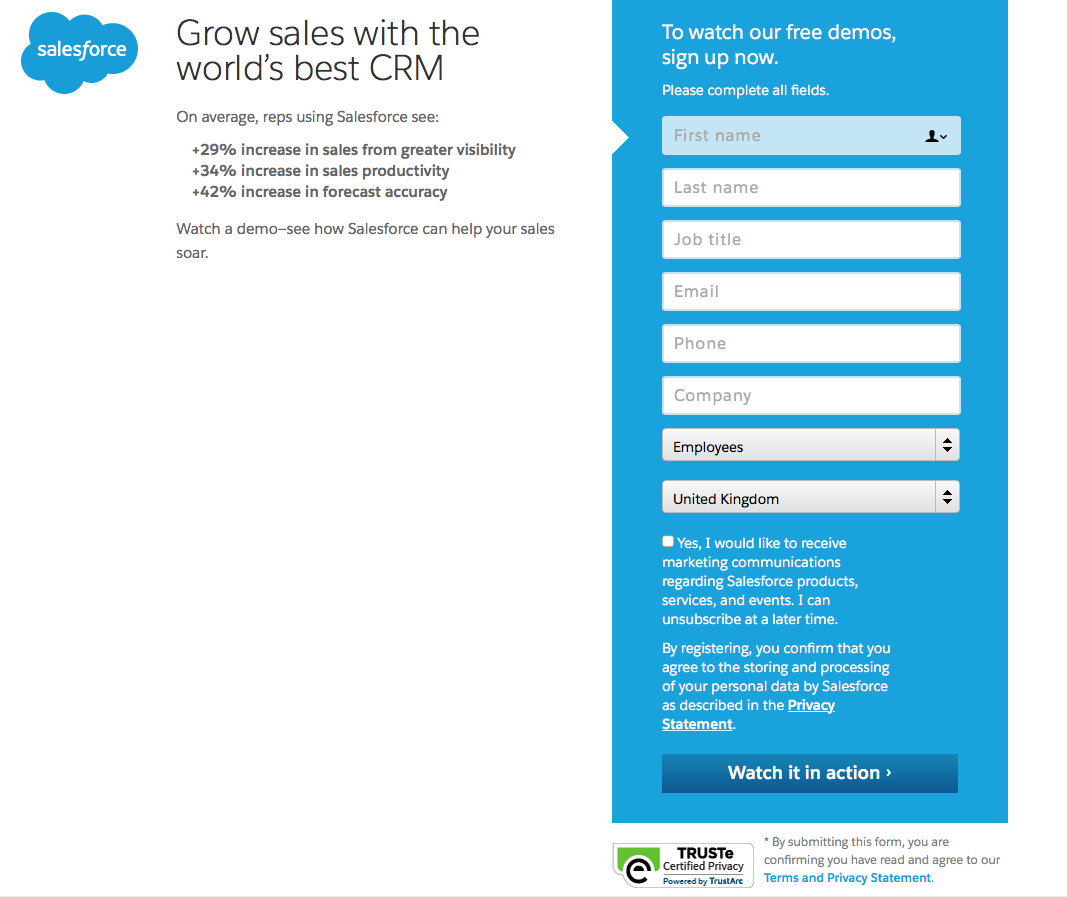 (Image source: salesforce.com)
Importantly, gated content is in effect free to access. This is to say that content marketers don't ask for any cold hard cash in exchange for the content on offer; rather, they're after that all important name and email address which can be used for future marketing purposes.
Nonetheless, gated content will usually be of extremely high value and designed for a very specific type of user – namely, a target customer (as opposed to a casual web visitor). As such, the content you decide to gate needs to be a true lead magnet.
It needs to be something that your target customers (i.e. those in need of a product, service, or solution like yours) simply cannot do without – and you need to know exactly who those people are.
Here's the theory – 100 users arrive at your site via a blog post, which they may have found through a search engine or social media post. 95 of these visitors aren't really looking to buy anything – they just saw your catchy headline, clicked on it, and here they are.
The remaining 5, on the other hand, are on the lookout – perhaps just casually – for the type of product or service you're selling.
However, they're not ready to commit yet, and certainly aren't going to pick up the phone to call you up to learn more about your offer (in 2018, the age of the empowered consumer, people like to conduct their own research in their own time and on their own terms, rather than get hassled on the phone by a pushy salesperson).
So, instead, you dangle an eBook, white paper, research report, case study, webinar, or series of video demos in front of them – completely free to access, all you want is a name and an email address in return.
And here's the trade – you get to find out exactly who's interested in learning more about your business, and your target customers get a high-value piece of educative content in return.
You are now using gated content to generate leads. Now, with names and email addresses captured, you can make direct contact with your leads and start the lead nurturing process (though that's a story for another blog post).

When Should You Deploy Gated Content?
A great question. In fact, there is an ongoing debate within the content marketing community about how, when, and where gated content should be used.
Of course, few marketers would dispute the fact that you need to offer something in return for the email addresses you want your prospects to provide – and free content is pretty much the standard solution in the industry.
What the debate focusses on, however, is what kinds of content should be gated, how much should be locked behind a lead capture form, and where in the funnel it should be deployed.
There are also some marketers out there who believe that companies would do better not to gate any content at all, and thereby removing all roadblocks to the valuable information produced.
This, so the argument goes, builds greater trust with prospects, and provides an SEO (search engine optimisation) boost at the same time. There is certainly some merit in this argument, but it is a trade-off – though you will almost certainly get more views of your white paper, eBook, webinar, or what have you if you leave it ungated, your lead generation capabilities will inevitably suffer since you're not utilising contact capture.
The best overall content marketing strategy is to use a mixture of both gated and ungated content – ungated to raise brand awareness, improve SEO, and increase views, and gated to capture contact information, filter out those who are just browsing, and generate leads.
The way to organise this is to map your various content assets – both gated and ungated – to the marketing and sales funnel, paying particular attention to the three stages of the buyer's journey.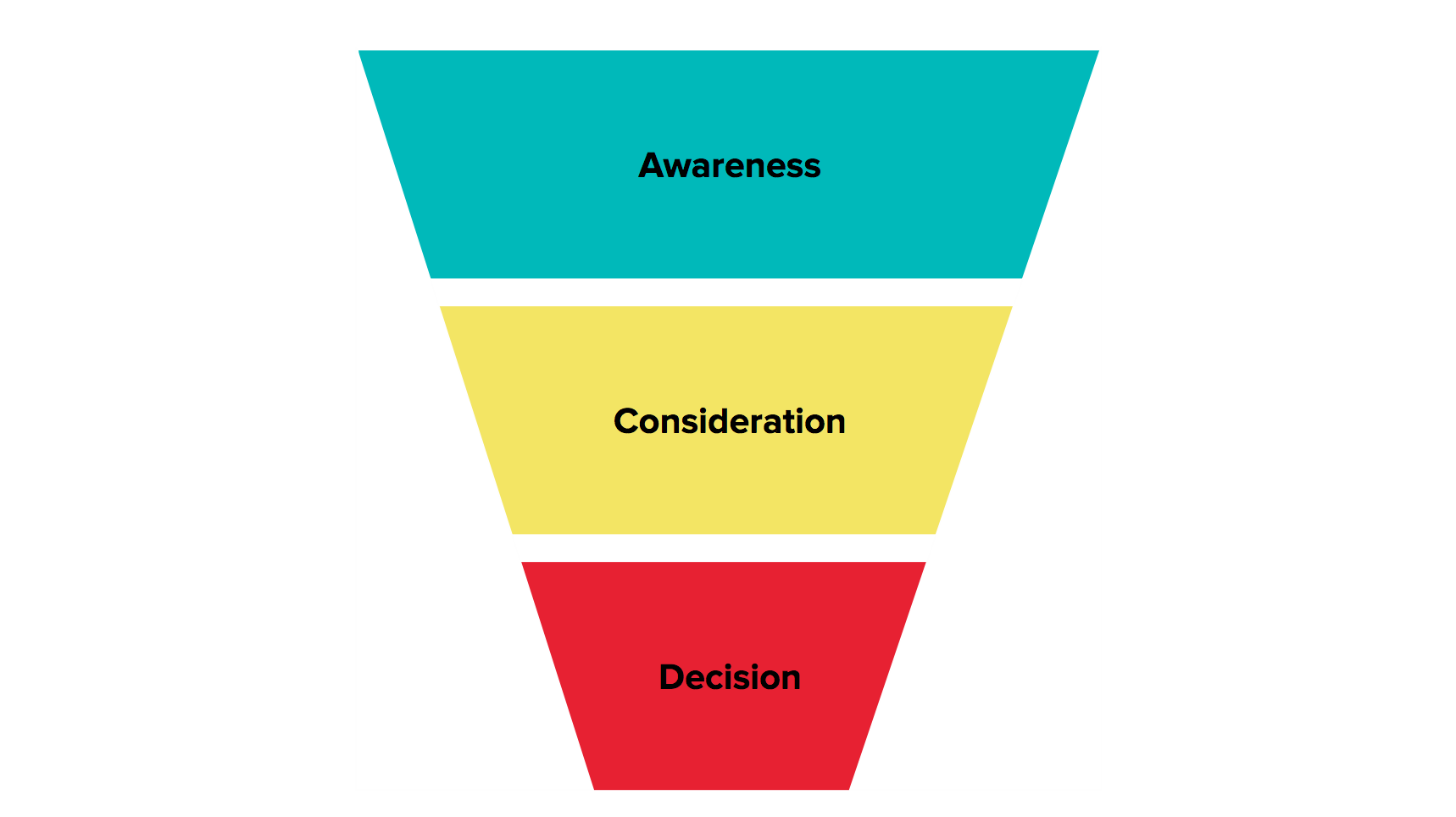 (Image source: insights.newscred.com)
The three stages in detail:
Awareness Stage: Here, the prospect is aware that he/she has a problem, though is yet to discover your business – which of course sells a solution to that problem. The prospect begins some initial online research into what solutions there may be.
Consideration Stage: This is the middle of the funnel. Now that the prospect has done a bit of research, he/she has found that there are a number of potential solutions from a number of different companies – yours being just one of them. At this stage, the prospect will be conducting extended research into all possible solutions, and pitting them against one another.
Decision Stage: At this point, having weighed up all the options, the prospect will whittle down a long list of solution providers into a short list, and will ultimately select one solution that best fits his/her precise needs and become a paying customer.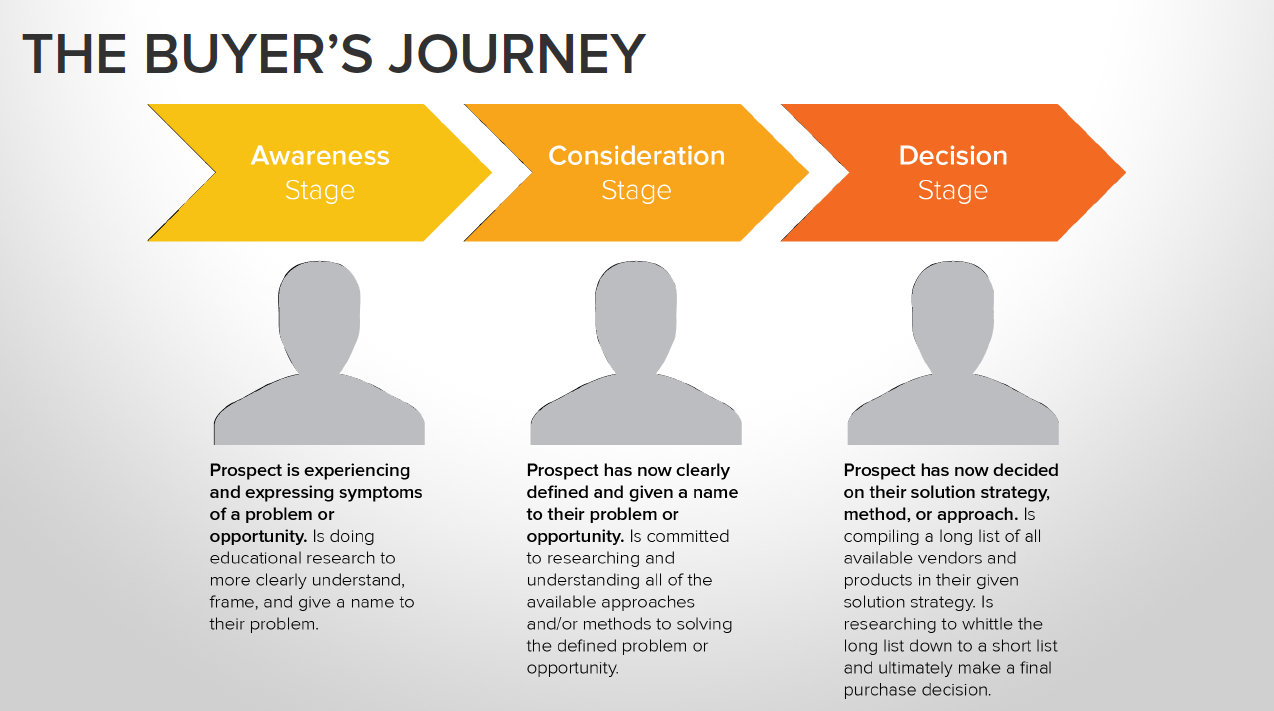 (Image source: mohittater.com)
As you can imagine, gating content designed for those in the awareness stage – who know very little about your brand, nor precisely what sort of solution they're looking for – won't do very much for your brand's visibility.
Ungated content in the form of blog posts, infographics, and promo videos is therefore your best bet at this stage, for you will be using it not to generate leads or capture contact information, but simply to draw traffic, increase brand awareness, and let potential customers know that you exist and have a solution that can help solve their problem.
As your prospects move into the consideration stage, they will be looking for as much information as possible to ensure that they make the most informed and sensible purchase decision.
And it's here where gated content becomes useful. Prospects in the consideration stage will be far more likely to fill out a form in exchange for access to high-value content that explains in more detail precisely how your product or service will solve the problem they're facing.
eBooks, white papers, demo videos, webinars, and case studies would all be good enticements for prospects looking to learn more. Gated content may also be useful at the decision stage – however, by this point, the likelihood is that you will already be in direct contact with the prospect and delivering your content offers via email.
Examples of Gated Content
Let's now take a look at some gated content examples to see how companies are using contact capture forms to generate leads.
White Papers – BrightGuage
Business intelligence platform provider BrightGuage has one of the best white paper games in the business. Providing prospects with in-depth white papers is a great strategy for generating leads and growing a strong email list over time – and at BrightGuage, visitors are positively spoilt for choice.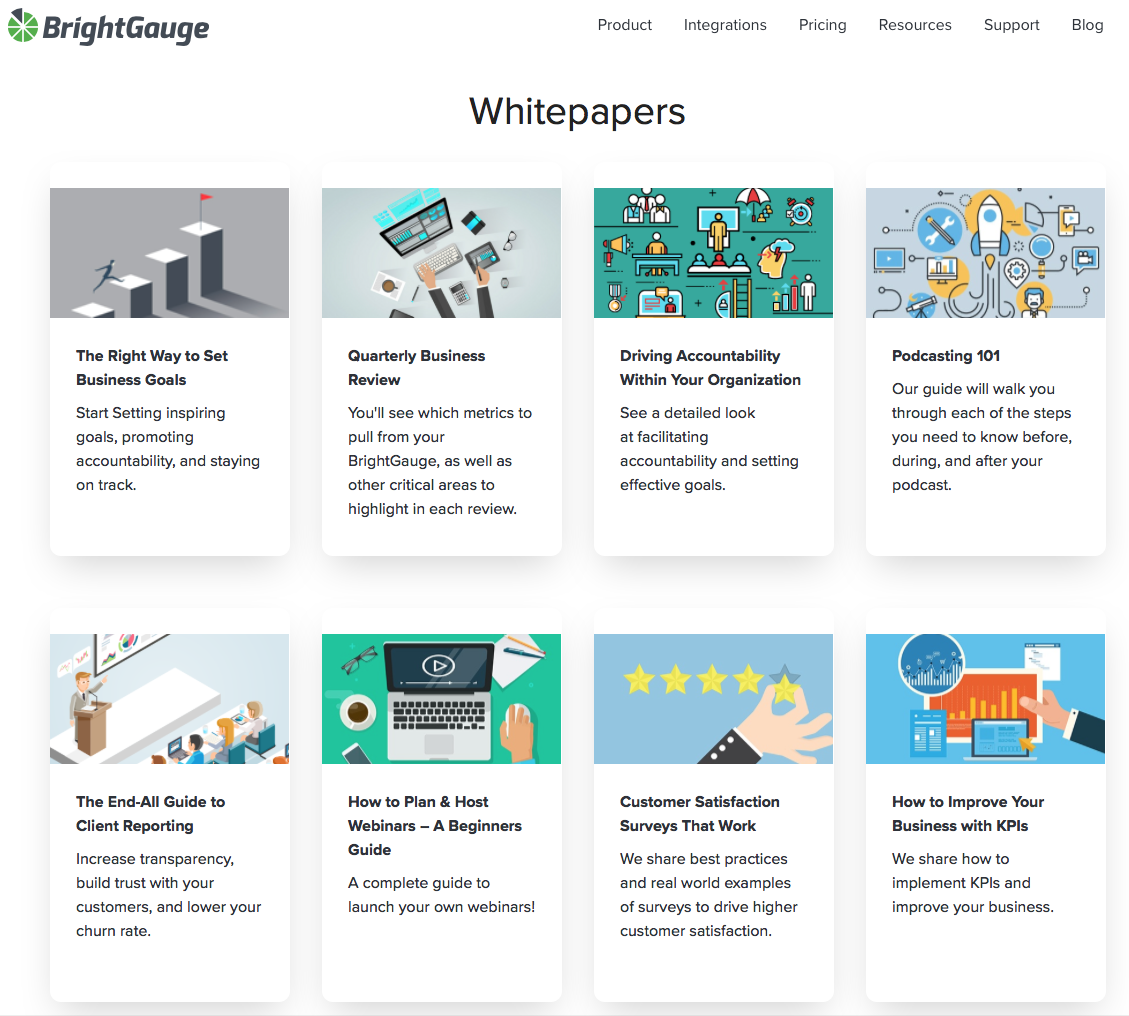 (Image source: brightguage.com)
As well as using CTAs (calls to action) on blog posts to entice readers to learn more by downloading a related white paper, BrightGuage has also created a resources page where all of the publications can be viewed and accessed.
Click on one and you'll be taken to a landing page where you will be presented with a little blurb explaining the value of the content, as well as the all-important lead capture form. Fill this out and you'll receive an email – thusly beginning a conversation – with further instructions.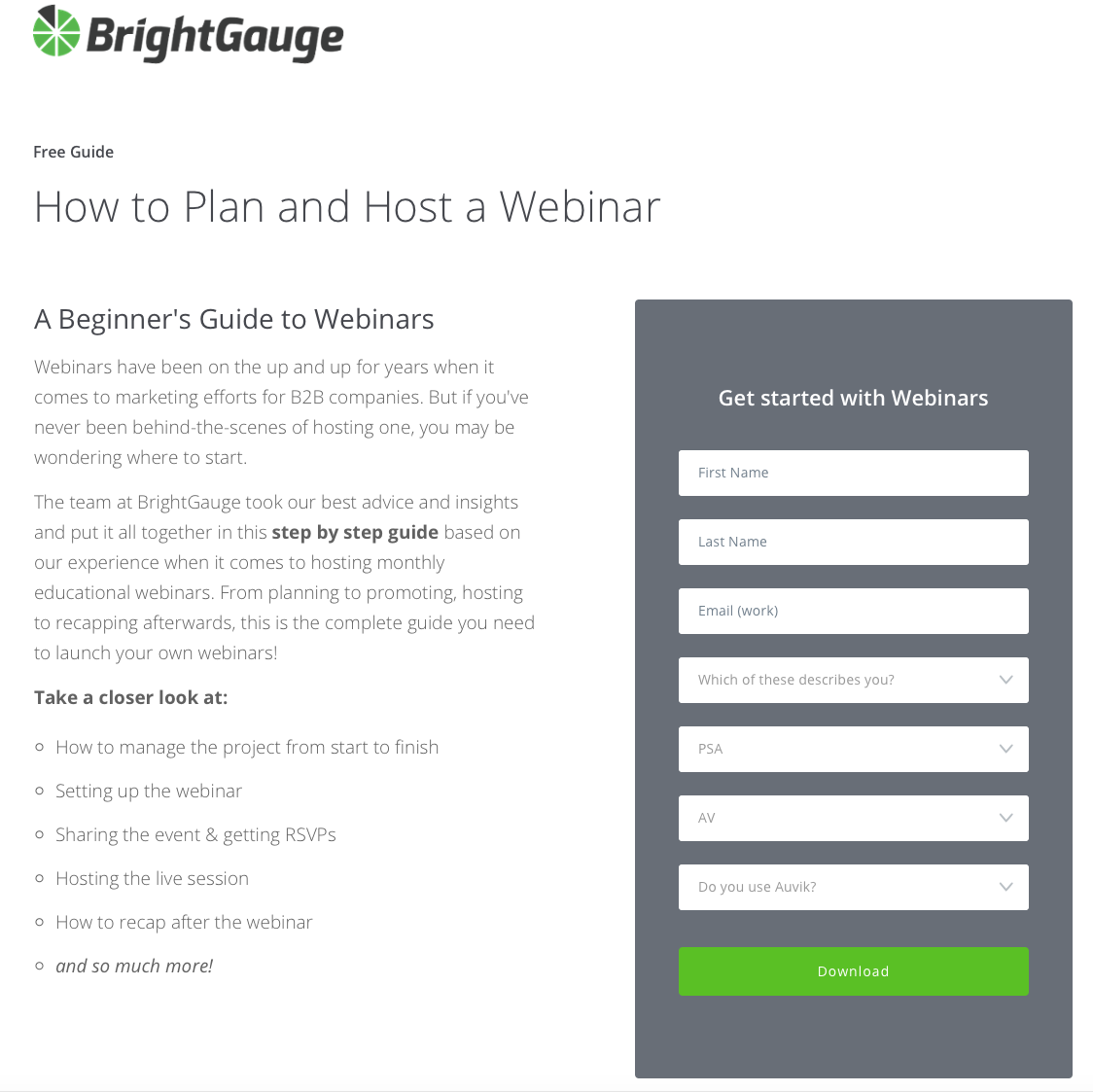 (Image source: info.brightguage.com)
It's all very simple and straightforward. Note that the company is asking for a lot of information – but they are giving away a lot of free information in return.
While it's true that forms that are too long can be off-putting, when it comes to white papers, those who are serious about accessing the information will do so even if they've got three or four extra fields to fill out. A great use of gated content to generate high-value leads.
Courses – GetResponse
Email marketing and marketing automation provider GetResponse has an interesting lead generation strategy which utilises gated content in the form of free online courses.
The company is somewhat of a master at slick-looking, well-designed landing pages – which you would expect it to be, considering that landing pages are the subject of one of its free email courses. Here's the landing page above the fold: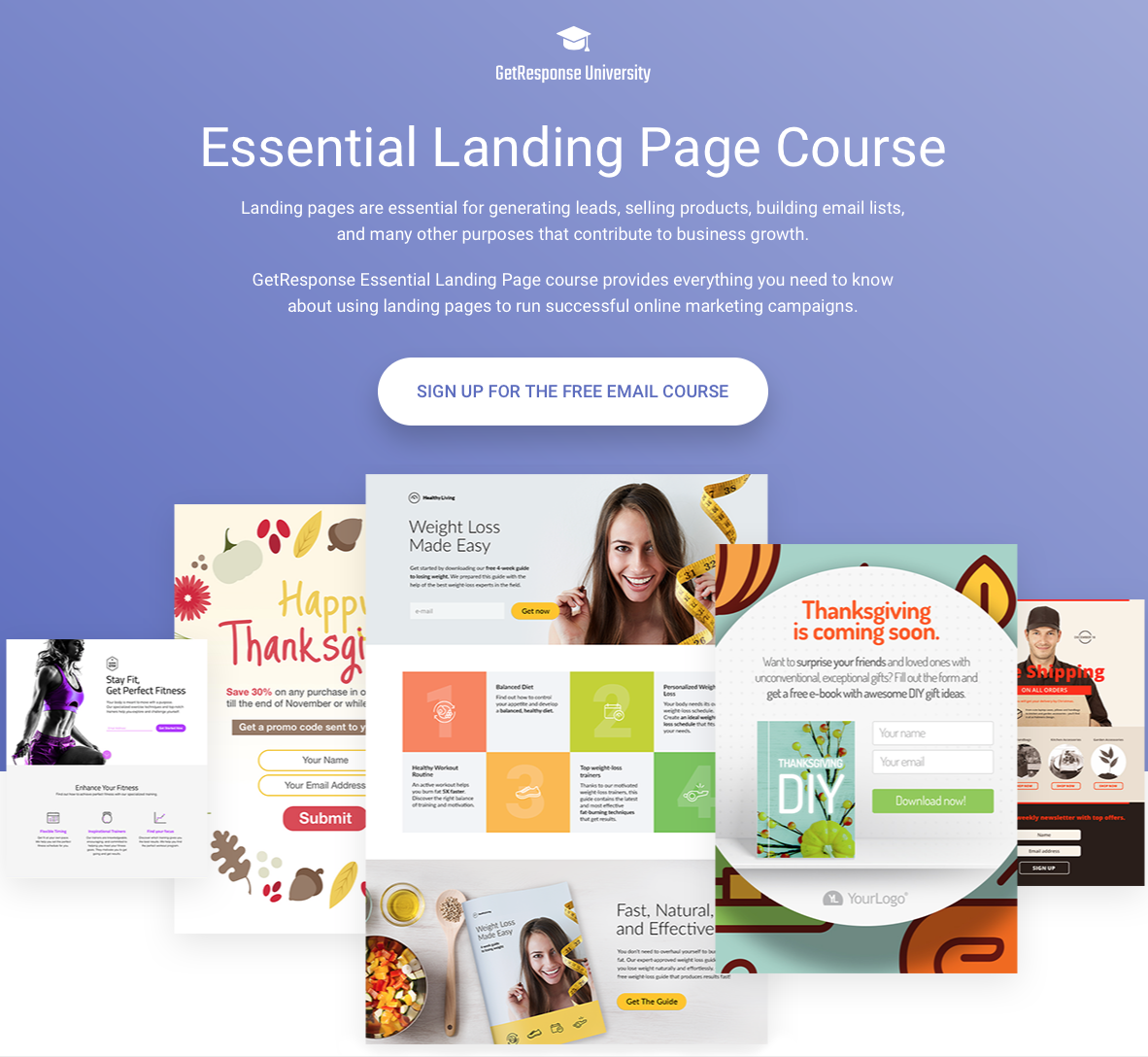 (Image source: getresponse.com)
Then, as you scroll down to learn more, you are presented with a very simple form to fill out – just name, email address, and name of company is all they're after.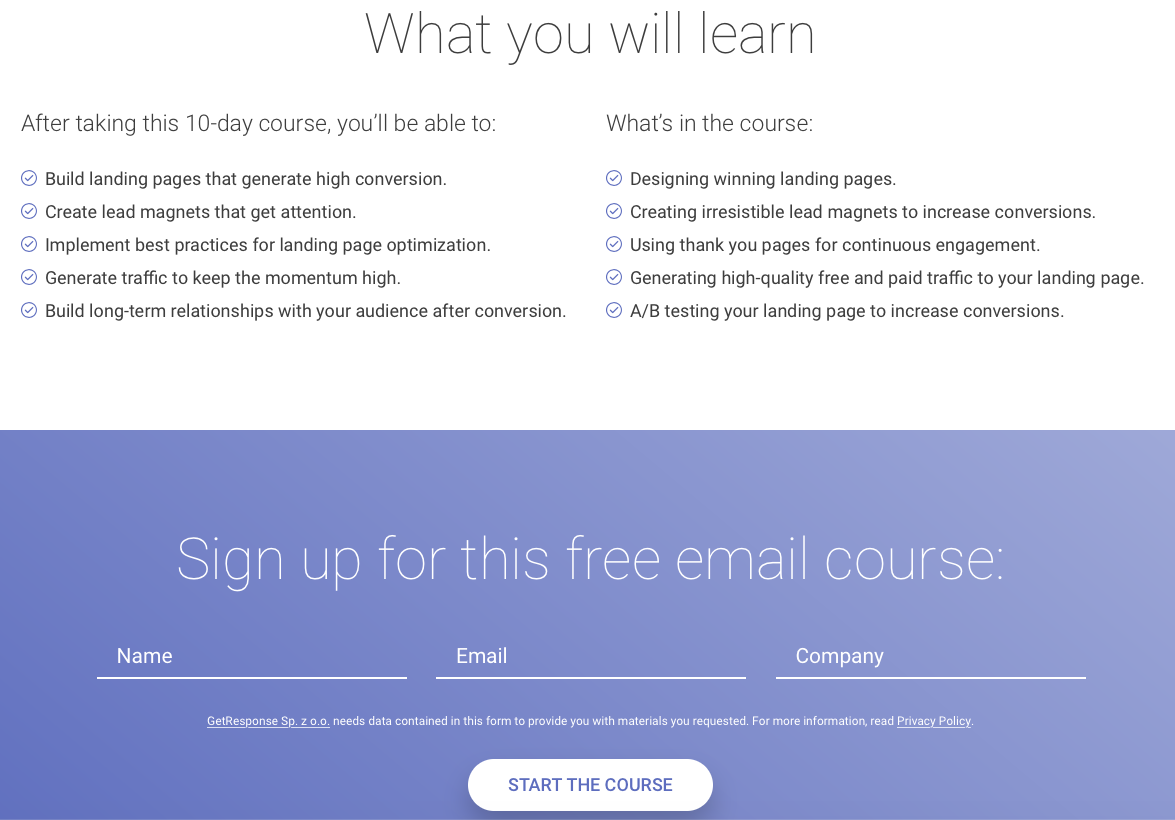 (Image source: getresponse.com)
Notice once again that the value proposition is made clear – the "What you will learn" list bullet-points exactly what you'll get out of the landing page course, enticing readers to take the next step and fill out that form. Another great gated content idea.
Webinars – HubSpot
Webinars have become an increasingly popular gated content strategy in recent years, especially as the latest advances in technology have rendered live video broadcasting across the web a breeze.
Webinars are very good at generating leads due to the fact that they are perceived to be of higher value than a lot of other gated content types – and a lot of people prefer to watch videos online than read text.
The great thing about webinars is that once you've recorded them, you can put them on a resources page for people to access at a later date, extending their lifetime value and lead generation potential. CRM platform provider HubSpot has one such page: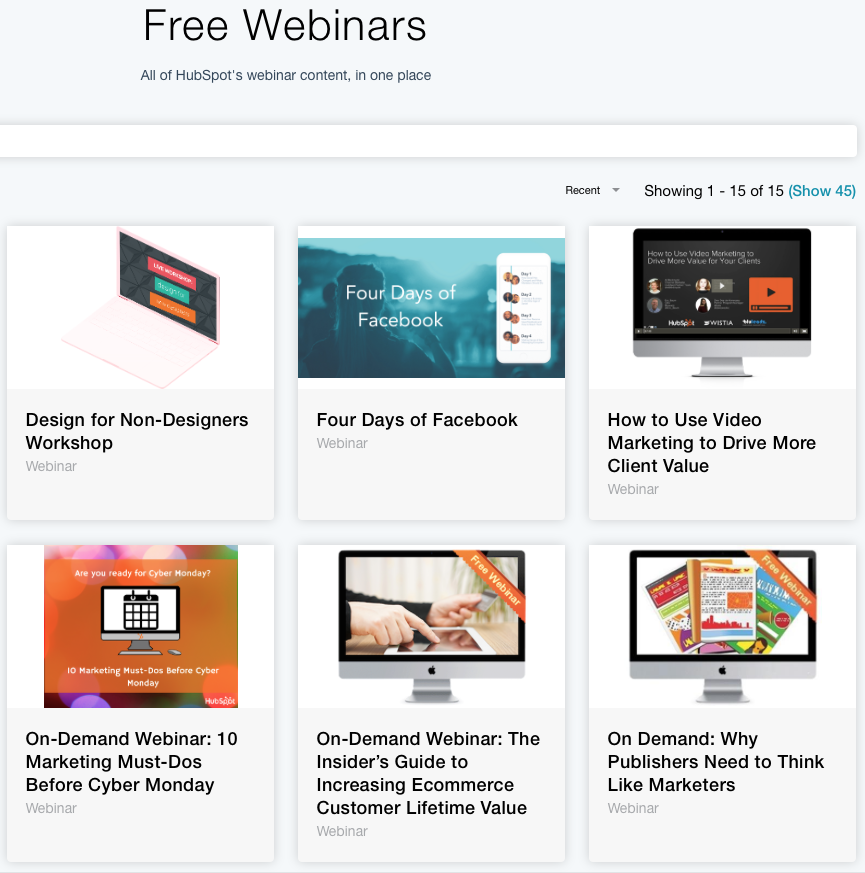 (Image source: hubspot.com)
Once again, particular attention is paid to the value proposition on the landing page where the lead capture form resides. Here, on a webinar entitled 'Design for Non-Designers Workshop', HubSpot has teamed up with Adobe Spark to create a course to teach non-arty people how to get creative.
The speakers are listed so you know you're in safe hands, and you're even told that 5,000+ marketers attended the live event, adding credibility to the resource, and encouraging you to head on down and fill out that form.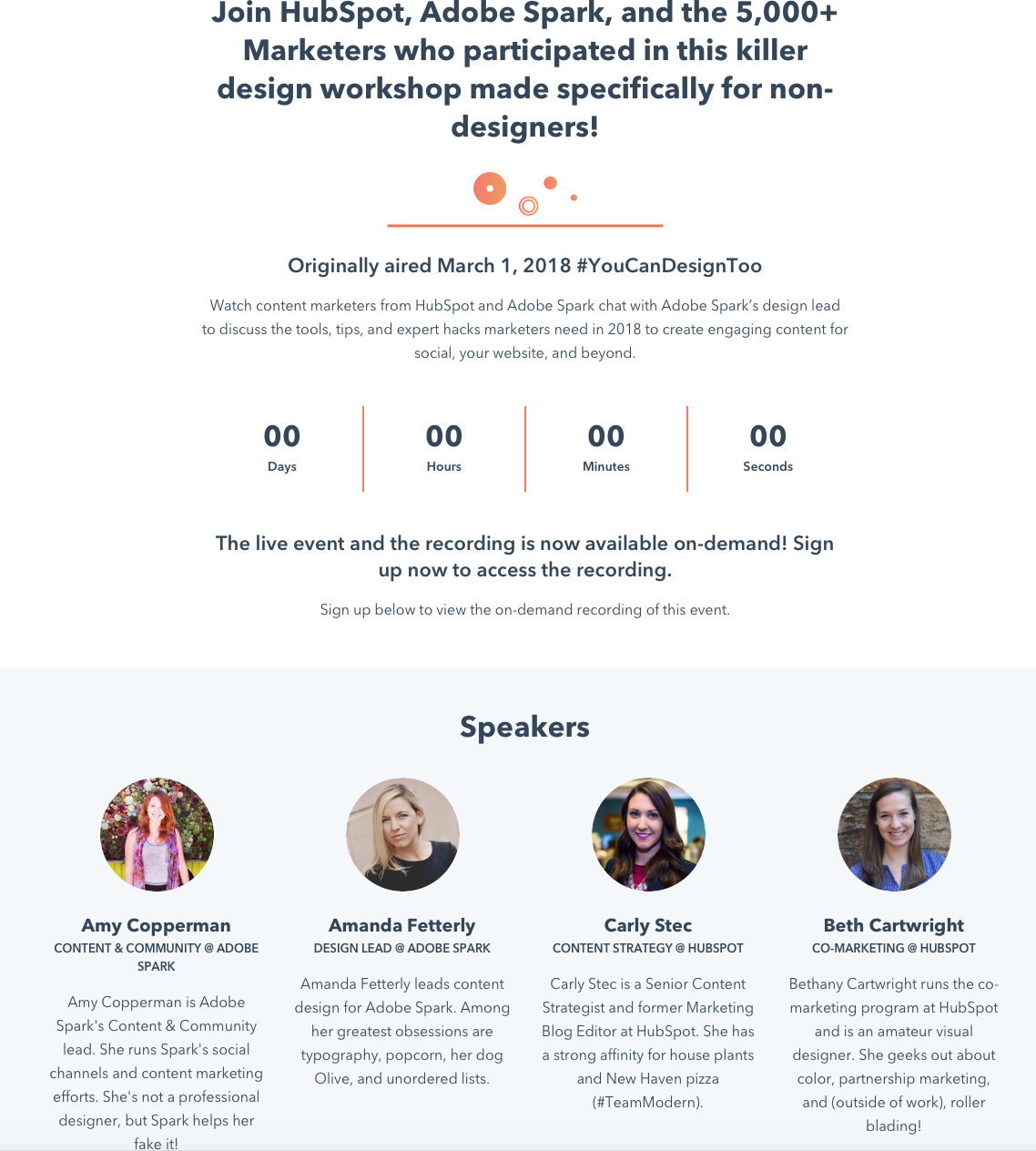 (Image source: hubspot.com)
Over to You
Gated content is critical to lead generation. It's what will separate the wheat from the chaff, and enable you to start growing an email list of qualified leads whom you can begin to nurture down the sales and marketing funnel towards an eventual purchase.
The examples above show you some ideas for how you can go about building gated content into your strategy, but there are many more options, including eBooks, research reports, email series, and content upgrades.
You will, of course, need a strong repository of ungated content to build traction and increase traffic to your website, but from there, if you want to start generating leads, you'll need to deploy gated content and lead capture forms to see the strategy through. If you need help developing and executing a gated content strategy, get in touch with the content marketing experts here at markITwrite today.