Capitalising on the fact that readers tend to respond better to genuinely helpful information than to advertising, content marketers often turn to the whitepaper or eBook, as a vehicle for engaging with their audience, while solving a perceived problem or fulfilling a particular need.
This kind of document is one among several content types that can address the needs of consumers at various stages of their interactions with a brand.
According to a 2019 report from the Content Marketing Institute, business-to-business or B2B marketers rated blog posts or articles, whitepapers, and case studies to be the most effective types of content for the early, middle, and late stages of the buyer's journey, respectively.
Similar research by Chief Marketer.com rates customer testimonials and case studies, blog posts, and white papers as the most effective tools for moving prospects through the sales funnel.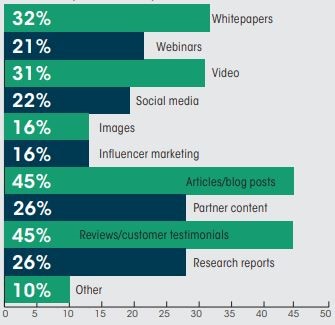 (Image source: Chief Marketer.com)
However, identifying a valuable tool and actually using it to create value, are entirely different things. In this article, we'll be looking at the steps you can take to write the perfect whitepaper -- and what you can do to get the most out of it, once it's finished.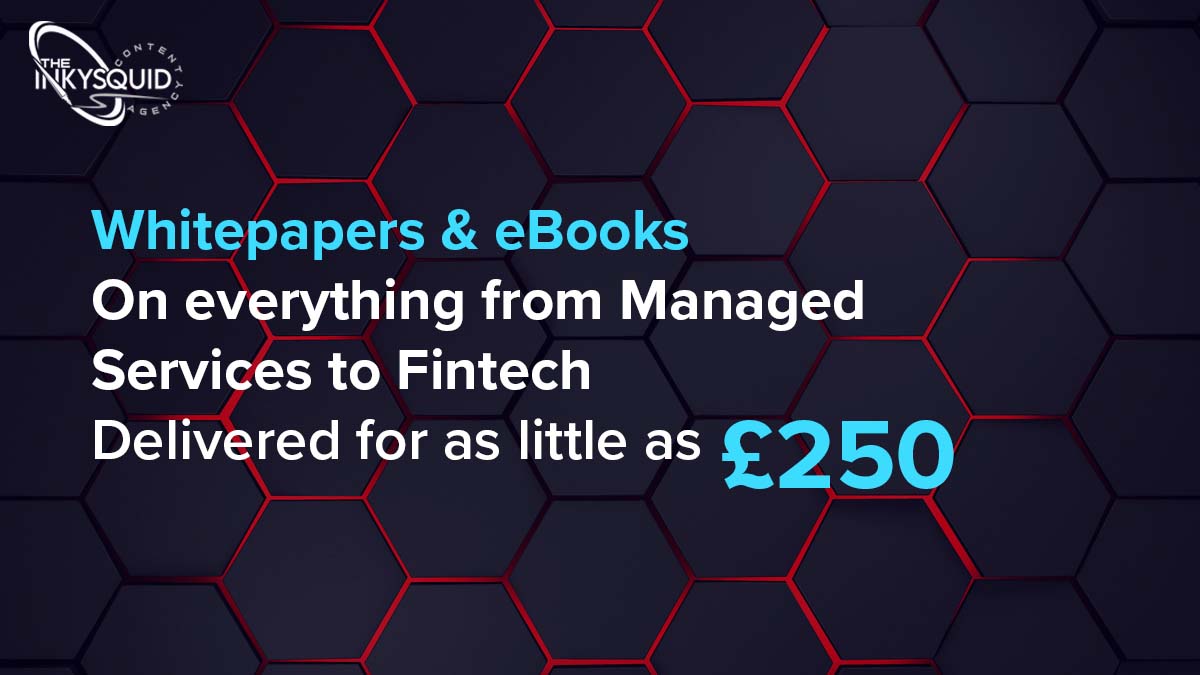 The Problem With eBooks And White Papers For Most Organisations
In a recent study of the industry, analyst Elise Dopson observes that only 7% of marketers think their content is exceptional. The vast majority of marketing professionals (43%) consider their content output to be somewhere in the middle: neither good, nor bad.
A lack of budget is one of the major factors holding most Chief Marketing Officers (CMOs) back from creating effective content.
(Image source: CMO Council)
Budgetary considerations aside, knowing the right kind of document to produce for a particular purpose goes a long way toward focusing your writing effort, and generating content that's appropriate to your target audience.
Whitepaper Or eBook?
Though the two are often used interchangeably, some analysts make a distinction between what constitutes a whitepaper or white paper (both forms are used), and an eBook.
Under this classification, a whitepaper is more like a report or essay, and contains expert knowledge along with in-depth research. It uses this combination to describe a problem, then present a solution. A typical white paper runs between 1,000 and 10,000 words.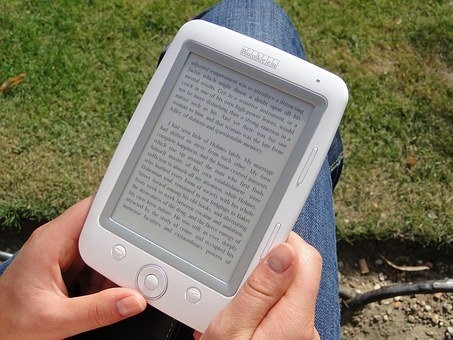 By contrast, an eBook has more of a traditional "book like" structure, with page breaks, chapters, a table of contents, and so on. While it focuses on a particular topic with the aim of educating the reader, an eBook tends to have more in the way of illustrations, quick takeaways, and design elements.
So while an eBook under this definition acts as an extended guide on a topic for a general audience, a whitepaper reads more like an academic report, presenting information for a niche audience.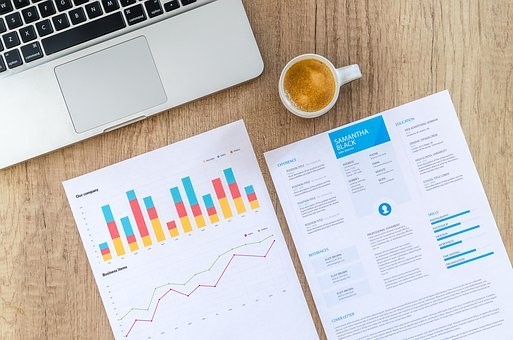 This said, you'll often find considerable overlap between the two forms, with white papers that feature extensive graphics and charts, or an eBook that places more emphasis on text. For both forms, there's a recommended approach to preparing, laying out, and ultimately presenting your content.
Identify Your Audience
Identify as many factors as you can, about your prospective audience. This could include their level of education, professional rank, etc. Your assessment should certainly take into account any pressing pain points or needs they might have that you are in a position to help them address.
Knowing the level of expertise of your target audience will also influence the way in which you present your information. So for example, if you represent an engineering firm and are writing a white paper describing a new process, it may be appropriate to use technical language that your fellow engineering professionals will easily understand.
You should however avoid jargon as a general rule. If your whitepaper is likely to find its way into the hands of readers who lack a technical background, it's also a good idea to explain any complex processes or vocabulary in simple terms, that a lay person could understand.
Choose An Attention-Grabbing Title
The title of your document should be attention-grabbing, but not sensationalist. It should be concise, and clear enough to communicate to the reader what they can expect from the document that follows.
Titles that encapsulate the scope of the problem and hint at the solution are most appropriate. "Mounting Debt? A Three-Step Process For Managing Your Finances" would be an example.
Remember that you're creating this document to help people. While using it as an informal introduction to your products and services may be the ultimate goal, think of a subject that will be of interest and relevance to the reader, rather than what you want them to read.
Give A Brief Introduction
In a brief introduction, acknowledge your intended audience and give an overview of the scope of your paper. This should include an analysis of the current state of affairs, and why it's a problem for them. You can also discuss some of the alternative solutions that are on offer -- and why your company is proposing something different.
Discuss The Problem That You're Addressing
Having identified the problem that your whitepaper is aiming to solve, provide a deeper analysis of the issue, with facts and figures to support your view.
Analyse the problem -- and put it into context in clear and concise terms. Giving a historical view of how the issue first came to arise will give you an opportunity to cover all aspects of the argument.
All of this should be backed up through intensively researched and documented figures and data, illustrating how you arrived at your conclusions. Visual aids such as charts, graphs, and infographics can help to sell your argument more immediately than words alone.
Describe Your Proposed Solution
In laying out your proposed solution, take a step by step approach that explains it in every aspect. Bullet lists or individual paragraphs with their own separate headings are typical ways of achieving this.
Remember that you're not making a sales pitch as such. Rather, you should describe to the reader what they can expect from your suggested solution.

Give Evidence To Back It Up
Justify your proposed solution using hard evidence. This could be from government publications, trade journals, or facts and figures from your own laboratory research and testing. This evidence should support the argument that the solution you're proposing is the appropriate one for the problem at hand. If other valid solutions exist, you can acknowledge their relative merits -- but lay emphasis on why your own solution is the best.
Summarise
Finish with a review of the problem, and a brief recap of the solution you're offering. Remind the reader of the result that this solution is intended to produce.
If you must include a direct mention of your products and services at this point, make it subtle, and brief.
Edit The Text For Content, Grammar, And Relevance
Check to see that your document answers all the questions or concerns that a reader might have. Perform a spelling and grammar check on the text. You should also double-check all of your facts, figures, and data sources.
If you're working with a graphic designer, be sure to include place marks and descriptive text for any pictures or charts that you commission. And be sure to include any special instructions regarding image content and placement (location of sidebars, etc.)
Follow-Up Activities
A well-researched and presented white paper that clearly addresses a burning issue for your audience can position you as a thought leader in your industry, and/or a trusted partner to your consumers.
To gain maximum exposure, you'll need to decide where and how your whitepaper is going to be displayed and promoted. This might mean a dedicated landing page, a section of your web site or blog, or a combination of these.
With all the research material that you assembled in preparing your document, you'll now have options to follow up on the topics that you discussed, in a number of ways. So for example, you might create individual blog posts from each of the sub-headings in your white paper. Or you might create some social media content based on your observations.
In ways like this, you can increase the returns on the time and effort invested in preparing and publishing your eBook or whitepaper.
Need help writing a whitepaper? Or looking for a content marketing strategy to grow your business? Get in touch with the experts here at The Inky Squid today for a free consultation and quote.