According to Gartner, who have categorized it a top 10 strategic trend for 2020 and an "unavoidable market state", hyperautomation is part of a trend that kicked off with RPA (robotic process automation). Hyperautomation, however, includes and extends much beyond RPA both in terms of scope — it covers a range of automation mechanisms that can be combined and coordinated — and sophistication of automation.
Hyperautomation is by no means just a signature Gartner trend or phenomenon. Other technology industry analysts such as Forrester and IDC have their own forecasts on the next evolutionary phase of enterprise automation that broadly align with the principles and potential of hyperautomation albeit with nomenclatural variations.
Hyperautomation vs DPA vs IPA
Hyperautomation
Gartner's definition of hyperautomation emphasizes two specific characteristics of this evolved approach to automation. One, no single tool can be expected to drive end-to-end enterprise automation. Hyperautomation, therefore, refers to the application of several advanced technologies, including RPA, iBPMS (Intelligent Business Process Management Software), ML and AI, in order to enable complex as well as comprehensive automation. And two, it's not just about the breadth of the tool pallet either.
Hyperautomation also focuses on the orchestration of these technologies across the different stages — discover, analyze, design, automate, measure, monitor and reassess — of the automation process. Any successful hyperautomation program must amplify the ability to automate all possible business processes including complex and knowledge work.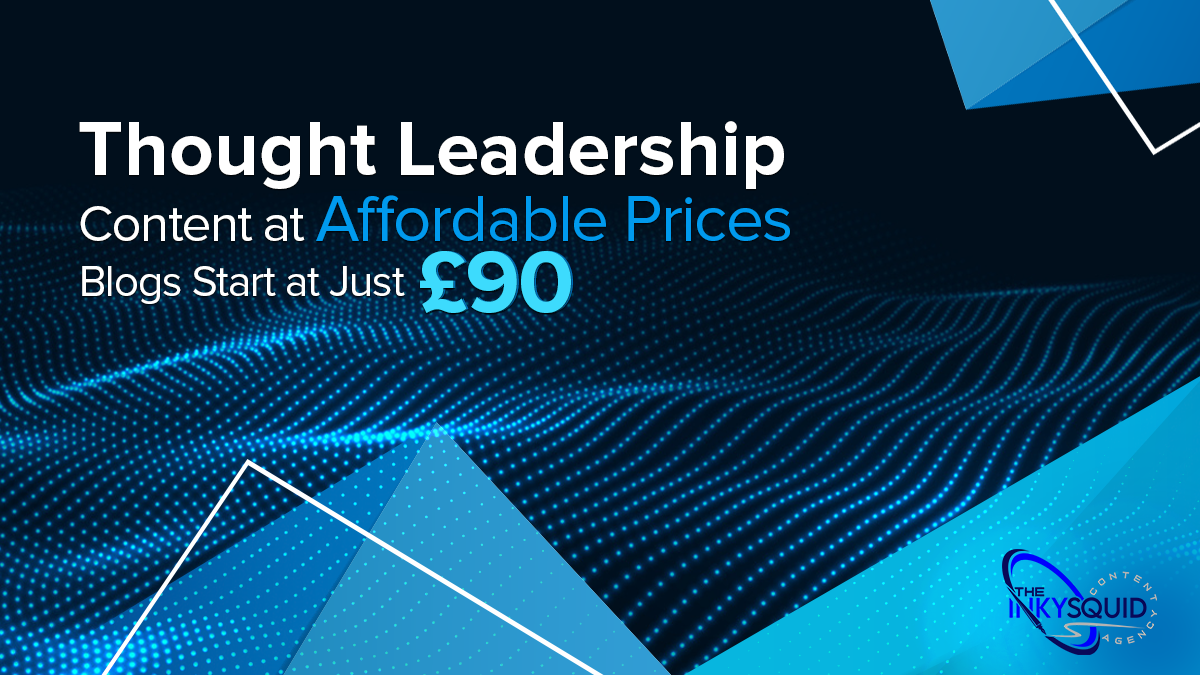 Digital Process Automation
In a March 2019 report titled RPA, DPA, BPM, And DCM Platforms: The Differences You Need To Know, Forrester stresses the central role for automation technologies in the digital transformation wave currently sweeping across global industry. Digital transformation leaders must now choose from a range of established automation tools like BPM suites (now called DPA-deep) RPA, DPA-wide, and DCM (Dynamic Case Management) in order to expand automation capabilities and infuse machine learning for smarter process execution.
The emphasis on a broader set of automation tools aligns with the approach to hyperautomation and so does the end objective - end-to-end process automation, including complex processes that cannot be handled by technologies such as RPA.
Apart from making a distinction between DPA-deep (complex process transformation requiring skilled technologists to implement and continuously improve) and DPA-wide (process design driven by business users without the need for technical skills), Forrester also expands the scope of automation with process automation representing just one of eight major categories of automation.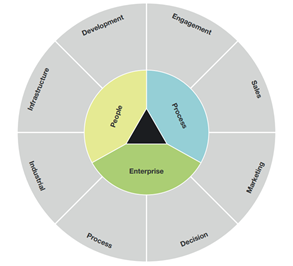 Image Source: Forrester Research
Intelligent Process Automation
IDC characterizes IPA as a strategic business imperative to accelerate digital transformation through business process transformation and automation. IPA refers to a group of software technologies that individually or collectively manage, automate, and integrate processes.
According to IDC, the main categories of technology that contribute to IPA include AI/ML, RPA, workflow/BPM and application integration/API management. IPA provides a new mix of capabilities required to simplify, accelerate and raise the level of automation. Though each of these technologies can deliver improvements at the level of individual tasks, a strategic approach to digital transformation will require much more.
So, the monikers may be different, but there are three common themes running through each of these concepts; one, there is a suite of technologies involved. Two, the focus is on strategic, high-level, enterprise-wide process automation rather than just task automation. And three, they are all RPA Plus, rather than post-RPA, strategies that help businesses expand and intensify their enterprise automation efforts.
The next question, therefore, what does RPA Plus accomplish that RPA alone cannot?
The need for RPA Plus automation
Back in 2019, Gartner identified RPA as the fastest-growing segment of the global enterprise software market following a 64% growth in revenue the previous year. RPA adoption continues to grow at a significant pace with current forecasts projecting global spends on RPA to reach $2.4 billion by 2022.
Perhaps the single biggest contribution of RPA has been the democratization of integration and automation that has spurred adoption. Businesses across industries have been able to leverage RPA to integrate legacy systems, accelerate digital transformation initiatives and unlock the value of their technology investments.
RPA, however, is not without its limitations with the most critical being the ability to scale. RPA is designed for simple, task-based automation, not for knowledge work or complex decision-driven processes. As businesses evolve beyond simple automation use cases to more complex business processes, they will need complementary functionality, such as process mining, ingestion engine, analytics, user experience and machine learning, to augment core RPA.
In this case, RPA has to be integrated with other process management and automation platforms and technologies in order to achieve scaled, sophisticated and end-to-end automation, which, in essence, is the entire premise of hyperautomation.
The growth of hyperautomation will also advance the RPA market. In fact, Gartner predicts that over the next few years, complementary technologies will be the key value driver for 80% of RPA-centric automation implementations and that RPA use will expand beyond just back-office operations to front-office functions such as sales and customer experience.
A similar prediction from IDC states that spending on AI-enabled RPA will outpace that of non-AI-enabled RPA over the next few years.
A strategic approach to enabling hyperautomation
In a 2019 report called Move Beyond RPA to Deliver Hyperautomation , Gartner provides a detailed strategy for businesses to move beyond tactical and routine automation towards a long-term strategic approach to deliver scalable end-to-end automation with hyperautomation.
According to the analyst, there are three stages to the process:
? Map the business's long-term automation journey
? Assemble DigitalOps toolbox
? Augment business processes with AI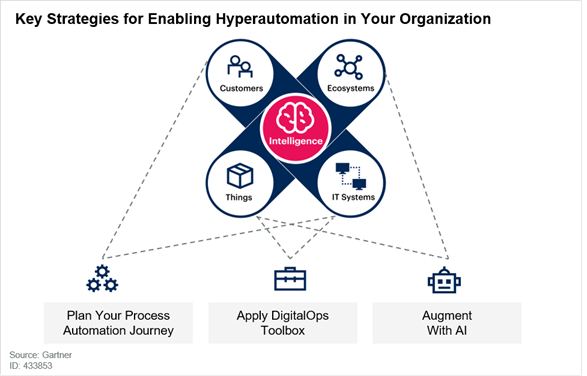 Image Source: Gartner
Map the business's long-term automation journey
Every business needs to chart its own automation course based on its desired business outcomes and the scope and complexity of the processes that need to be automated. Gartner prescribes a three-milestone roadmap to lay out the business's automation journey.

Image Source: Gartner
Milestone 1 - Define desired business outcomes
In this stage, enterprise architects and business process owners collaborate to define a vision for their automation program and align the program's objectives to three key metrics - revenue, costs and risks.
The central idea is to focus on enhancing processes that can maximize revenue, optimize costs and/or minimize regulatory risks. This makes it much easier for businesses to identify processes where automation and transformation can deliver the most value.
Milestone 2 - Optimize shortlisted processes
How intelligent does a business process have to be in order to enable desired business outcomes? That is the key question addressed by Gartner's eight dimensional Process IQ framework which helps transformation and automation leaders to assess just how intelligent a process needs and rightsize it to facilitate a certain use case.
The focus has to be on industrializing and scaling core processes that are critical for executing business strategy. Processes also need to be enhanced with standardized data inputs and decision intelligence.
Milestone 3 - Identify relevant DigitalOps tools
The final step in the roadmap is to identify DigitalOps tools that are the most relevant to a company's automation ambitions. The choice of tools has to be driven by an in-depth assessment of the different technologies and solutions available and then identifying the best combination that will enable tactical as well as strategic value.
Assemble DigitalOps toolbox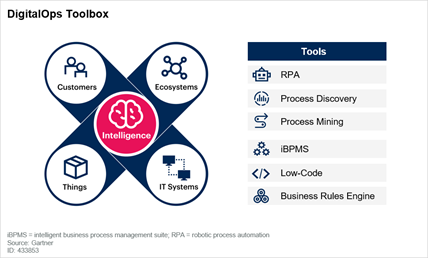 Image Source: Gartner
There are a wide range of technologies, such as RPA, process discovery, process Mining, iBPMS, iPaaS, APIs and enterprise service buses (ESBs), available within the scope of a DigitalOps Toolkit.
The choice of these technologies is driven by their pertinence to the objectives of the process automation initiative and the intended use cases and their functionality in addressing different steps (discover, analyze, design, automate, measure, monitor and reassess) of the automation process. For instance, while RPA can deliver quick wins by automating the routine, iBPMS can help orchestrate processes and automate tasks within those processes.
Augment Business Processes With AI
If RPA delivers quick wins and iBPMS enables orchestration, the role for AI within the DigitalOps toolkit is to add intelligence to the entire ecosystem.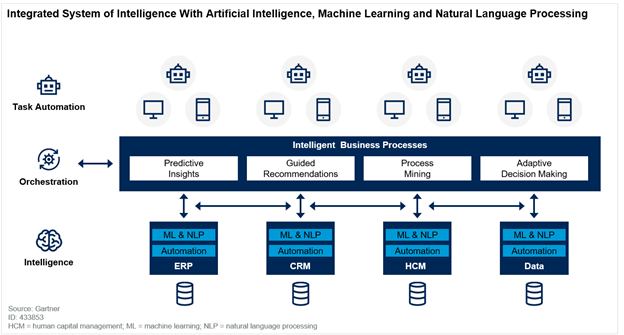 Image Source: Gartner
Applying AI and ML at each application integration layer facilitates a whole range of intelligent features including predictive insights, process mining and adaptive decision-making. Continuous learning from process automation data allows AI and ML models to update dynamically and even be reused across similar use cases thereby reducing the time and data required to develop and deploy models.
The choice of AI technologies, including ML, NLP, OCR and chatbots, has to be based on specific use cases and their ability to deliver quantifiable business outcomes.
This is just a rather brief overview of the strategies and tools required for a business to enable hyperautomation across the IT landscape. The original Gartner report provides a deeper and richer dive into all the factors that have to be considered on the road to hyperautomation.
Benefits of hyperautomation
The primary benefit of hyperautomation is rather existential. Hyperautomation, or DPA or IPA, is the only strategy specifically designed for the intelligent and automated enterprise. Current mainstream approaches, like RPA for instance, are all siloed piecemeal approaches that will eventually stagnate in the face of scale and sophistication.
There are, however, several other benefits associated with this particular approach to enterprise automation. For example, hyperautomation often results in the creation of a digital twin of the organization (DTO). This creates a fresh impetus for hyperautomation as it provides continuous, real-time intelligence that can open up new business opportunities.
Over and above this, hyperautomation enables the workforce by relieving them of mundane day-to-day tasks and allowing them to focus on high-skill high-value activities. It democratizes automation by empowering all personnel, both business and IT, to participate in the automation and transformation of the enterprise.
Hyperautomation also extends the scope and potential of automation to every business process thereby allowing businesses to pursue automation at scale which in turn translates into increased business agility and higher technological ROI.
Features of hyperautomation such as automated process discovery and advanced analytics not only help companies determine what and how to automate but also demonstrate the financial impact of automation. And finally, it helps align business and IT and drive successful digital transformation.
Summing up
RPA technologies have played a central role in the democratization of automation and have rightfully emerged as the fastest growing enterprise software segment in the world. It is a segment, however, with inherent limitations in terms of scale and sophistication of automation, and in their application for complex knowledge work and customer-facing functions. Of course, the RAP market is evolving rapidly with prominent vendors constantly adding complementary components to their offerings in order to deliver new functionality.
However, It's not just about RPA. The emerging consensus among most major tech analysts is that no single technology can facilitate end-to-end process automation at enterprise-scale. That is the impasse that hyperautomation addresses. Hyperautomation describes an approach that promotes the use of a complementary set of technologies most appropriate for an organization's unique automation needs.
It's a market that was valued at $4.2 billion in 2017 and is currently growing at a 2019-2027 CAGR of nearly 19%. It doesn't sideline RPA and other standalone automation tools and technologies like RPA as much as it supercharges their functionality. And today, it is the only approach that empowers enterprise IT, as well as business users, to achieve automation at a level of scale and sophistication required for an intelligent digital business.
If you need the highest-quality content for your business's lead generation, nurturing and sales strategies, The Inky Squid has a dedicated team of professional writers, designers, and social media marketing experts to put their talent to work for your business. As well as being of the highest quality, our blog prices are very competative. Get in touch today for a free, no obligation quote.