In an article in 2015 — and in a follow-up in 2017 — U.S. venture capital firm Bessemer Venture Partners reflected on why industry-specific cloud software companies like athenahealth, DealerTrack and Guidewire rarely received as much media or investor attention as their more celebrated horizontal peers such as Salesforce or Workday.
The implicit assumption that these industry cloud solutions did not warrant the attention of mainstream SaaS businesses because they served markets too small to support billion dollar outcomes, both articles argued, was misguided. After all, each one of these companies mentioned above had gone on to successful multi-billion dollar acquisitions or IPOs.
It is true that in the early days of SaaS, industry-specific applications, now referred to as industry cloud or vertical SaaS, were flying well below the radar. The focus at that time was squarely on applications that addressed broad cross-industry business functions, like accounting, finance, CRM, ERP and HR, that every business needed.
These were the heydays of horizontal SaaS solutions where the onus, and the time, effort and cost, of customization was typically on by the customer.
Today, the market is evolving from one-size-fits-all horizontal solutions to hyper-specific vertical solutions designed to address industry-specific demands and challenges. A range of SaaS vendors, from early-stage startups to public companies with multi-billion dollar valuations, are now honing in on this niche market.
Even traditional horizontal SaaS stalwarts such as Salesforce and SAP are evolving from a pure horizontal focus to deliver solutions tailored to industries such as healthcare and automotive. This key trend in the verticalization of SaaS also has traditional public providers, such as AWS, Google Cloud Platform and Microsoft Azure, focused on tailoring solutions that meet the mission-critical needs, as well as the unique data regulation and compliance mandates, of specific industries.
The vertical SaaS market
Currently valued at around $116 billion, Software-as-a-Service is the largest market segment within the $266.4 billion global market for public cloud services. According to some estimates, by next year, SaaS applications will account for 75% of all cloud workloads and computing instances.
And while annual SaaS revenues over the last decade have been growing at an average of 39% per year, on-premise the comparative growth rate for perpetual license software is at a measly 4%. This lopsided contrast notwithstanding, the growth potential for SaaS is still nowhere close to a peak as these cloud applications currently account for a mere 23% share of the total enterprise software market.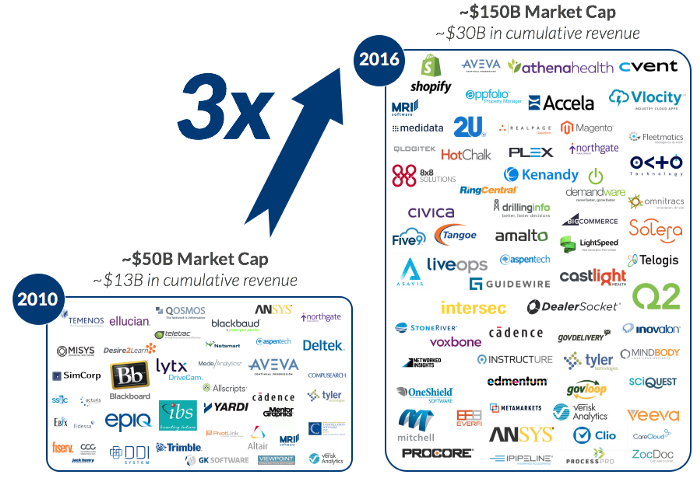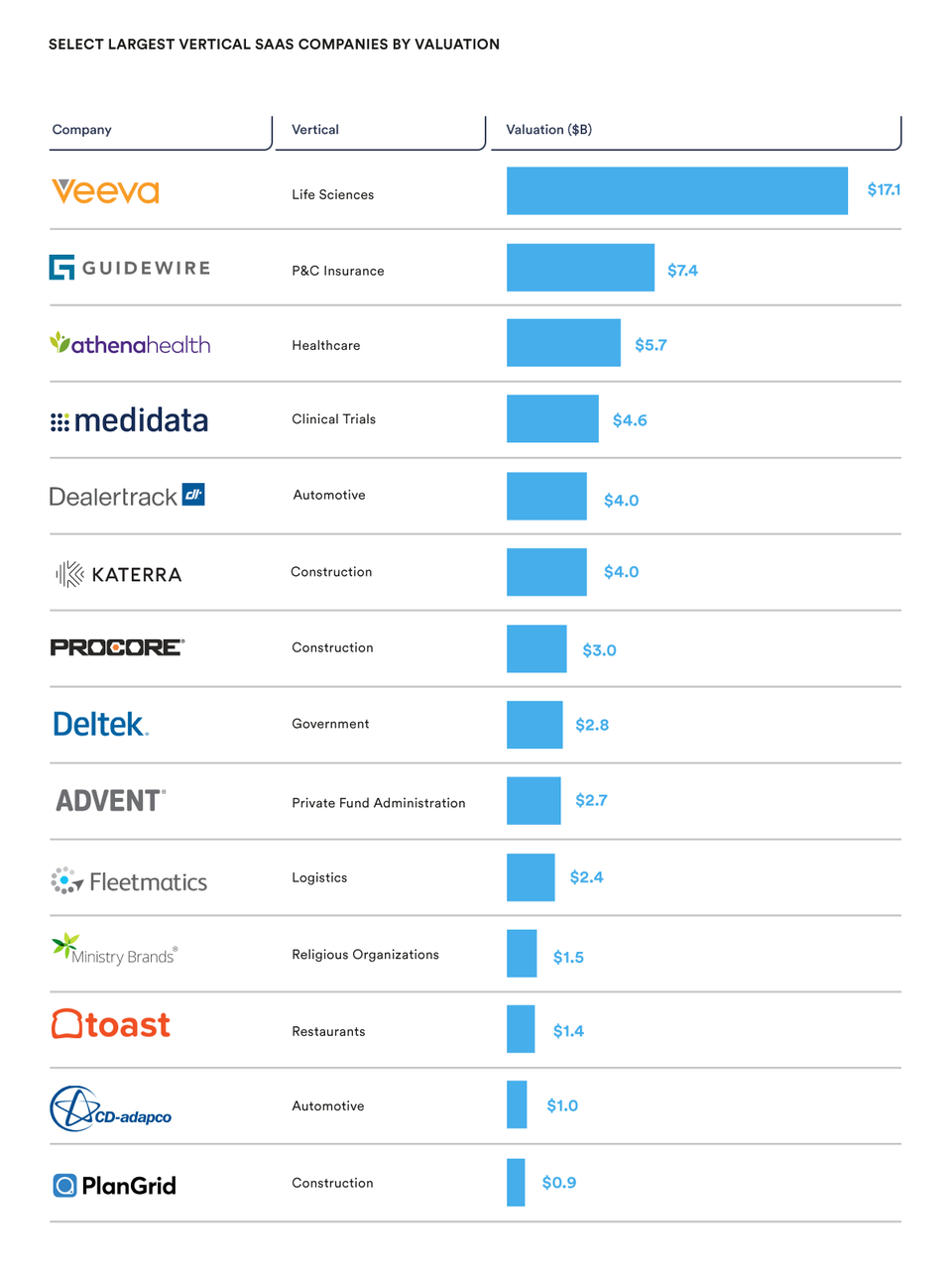 Image Source: Bessemer Venture Partners Image Source: David Gasparyan
Meanwhile, the market for vertical SaaS has nearly tripled over the past half-decade, a critical measure of the amount of industry-specific value that the initial function-centric evolution of SaaS left on the table.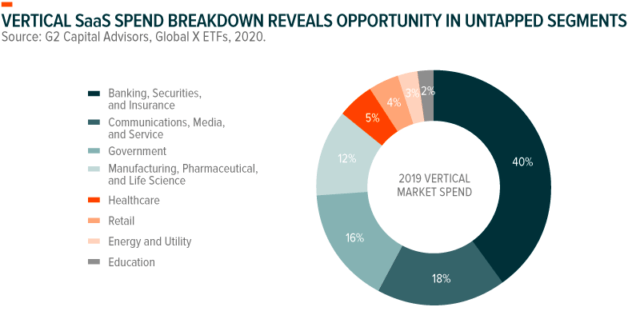 Image Source: Seeking Alpha
Key segments & markets
Vertically architected solutions, by their very definition, are focused on narrower markets with relatively limited potential. But they tend to offer tailored products, with exhaustive feature sets that enable high-value outcomes for the target industry. And there's is a huge market for that.
The primary potential for vertical SaaS is represented by a range of mainstream industries, such as architecture, engineering & construction (AEC), energy, transportation & logistics, manufacturing etc., that have historically been slow to embrace technological change. Now, these sectors have the opportunity to digitize and automate manual functions, processes, workflows and integrate advanced analytics and intelligent technologies to augment decision-making, operational efficiency and customer experience.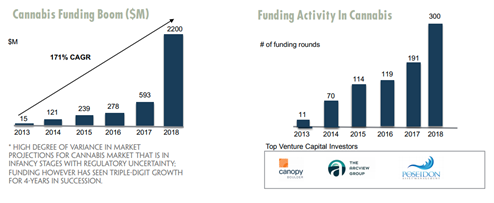 Image Source: Bowery Capital
At the other end of the spectrum are new age novel industries like cannabis looking for solutions that can address their niche needs across distribution, logistics, legal & regulatory compliance mandates etc. Funding activity in this brand-new vertical has been growing at a blistering pace with the number of deals surging from just 11 in 2013 to over 300 in 2018.
Funding has also grown at a CAGR of 171%, from $15 million in 2013 to $2.2 billion in 2018, and is only expected to explode going forward, driven by a new class of cannabis-specific investors such as Poseidon Asset Management, The Arcview Group, and Canopy Boulder.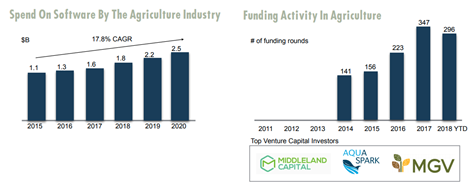 Image Source: Bowery Capital
Somewhere in between these two segments are sectors like agriculture and home healthcare that no one expected to jump on board cloud-based software. Today, the global agriculture technology-as-a-service sector is projected to grow at a CAGR of nearly 22% between 2019-'24 driven by certain inherent benefits of the cloud delivery model such as accessibility, scalability, integration and lower costs.
Apart from these industries, the rise of vertical SaaS is also accelerating technology adoption in the small and medium business market thanks to factors like easier implementation and reduced upfront investments.
As of 2018, there were over 34,000 SaaS products across 745 vertical SaaS categories. But the segment shows no signs of slowdown as it continues to raise capital like horizontal software.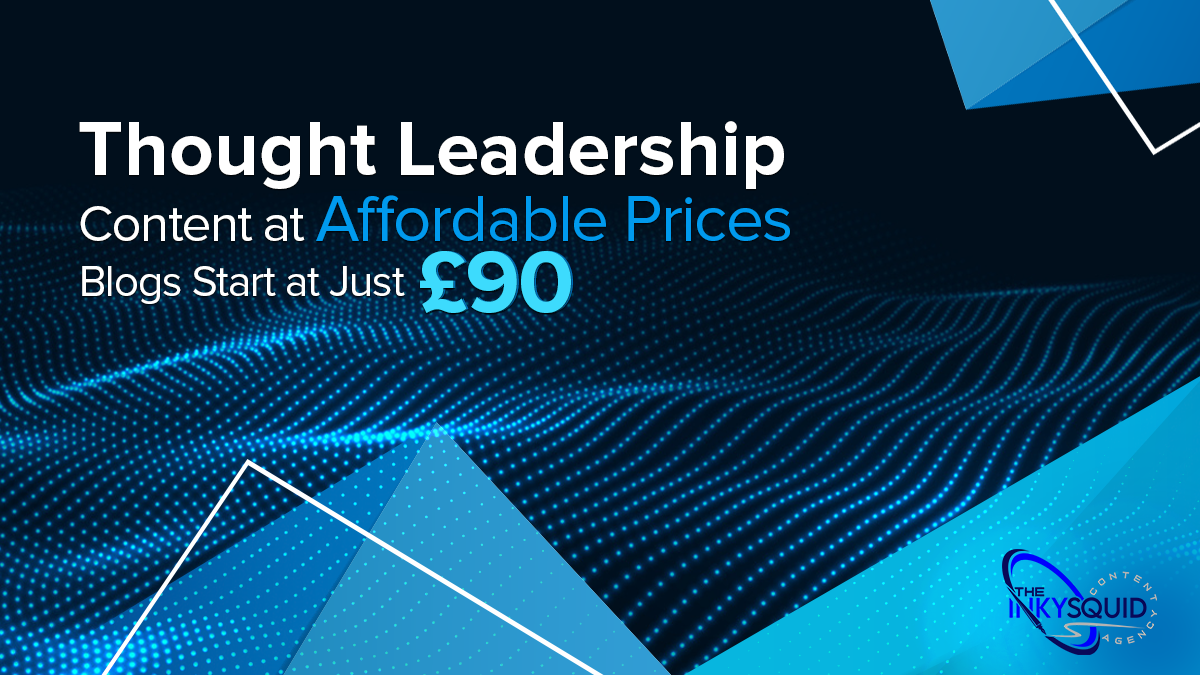 Investor & incumbent dynamics
Over the past couple of years, there have been a few high profile acquisitions of vertical SaaS companies by more established horizontal solutions companies.
Just in the construction vertical, there was the $875 million acquisition of construction productivity startup PlanGrid by Autodesk, the $1.2 billion acquisition of construction collaboration company Aconex by Oracle and a similar value acquisition of privately-held construction management firm Viewpoint by Nasdaq-listed Trimble. More on M&As a bit later, but these exits validate the huge opportunity for investors in the industry cloud segment.
Even investors with exposure to the horizontal software segment have the chance to benefit from the earlier stage growth opportunities afforded by vertical SaaS. According to one view, legacy players are often dissuaded by the counterintuitive valuation paradigm that puts early stage growth and profitability at odds with building market leadership over the long term.
However, there seems to be no dearth of growth and private equity investors for the vertical SaaS segment. Among many of these investors, the common investment thesis seems to be to fund core industry-specific platforms and quickly scale them through acquisitions and/or additional capital in order to address new opportunities to cross-sell or upsell to existing customers and to expand to new markets/verticals.
Another industry group that has been quick to rise to the software verticalization opportunity have been the incumbents themselves. For horizontal software providers, the growth in industry cloud is not only a threat to their existing relationships and positions in vertical markets but also an opportunity to broaden or redress gaps in their service portfolio, enhance functionality and enter new verticals. And they are turning to M&As as the vehicle to get them to the next big opportunity in the SaaS market.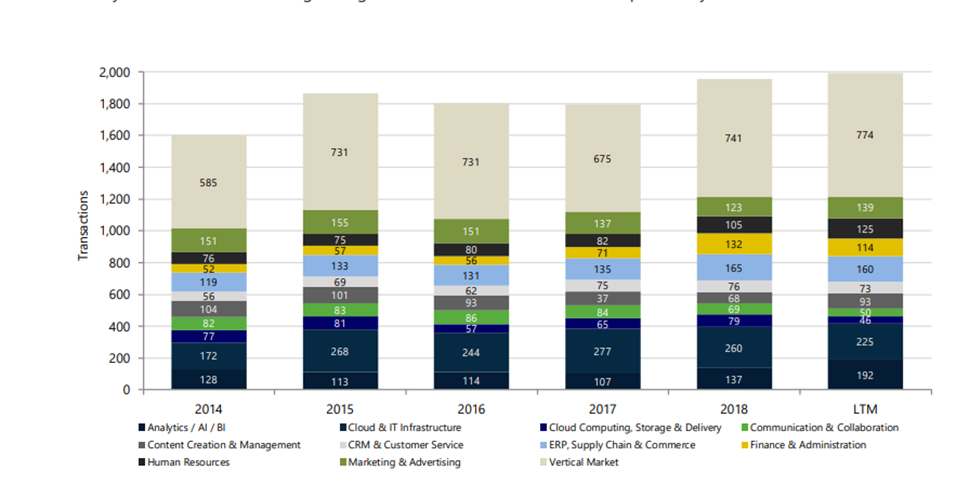 Image Source: Capstone Headwaters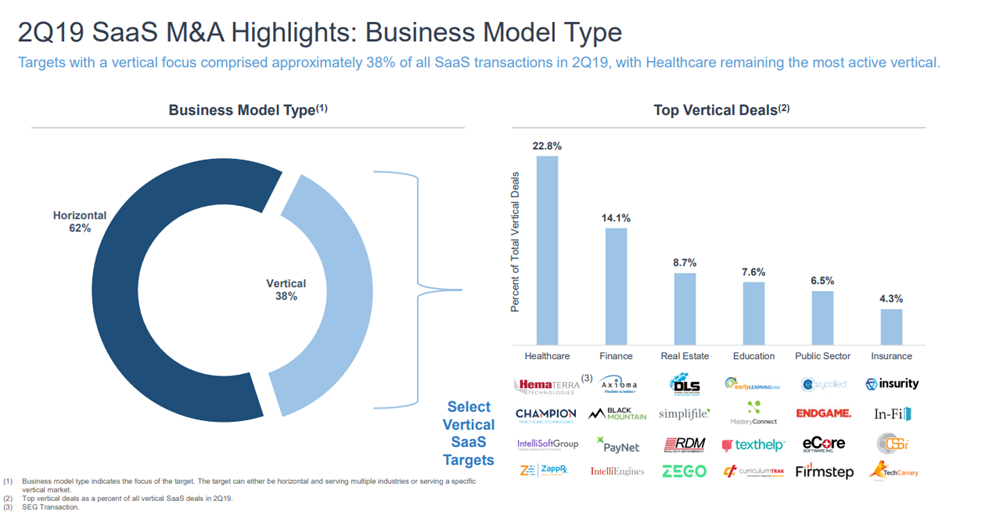 Image Source: Software Equity Group
According to one analysis of SaaS and cloud-related M&A activity in Q3 2019 by investment banking firm Capstone Headwaters, the vertical market was by far the largest segment by deal count and represented approximately 40% of the transaction volume over the previous 12 months.
A similar Q2 2019 analysis from the Software Equity Group found that vertical-focused companies comprised approximately 38% of all SaaS M&A transactions with healthcare leading the pack followed by finance and real estate.
Summing up
Given all this it would be fair to assume that industry cloud's below-the-radar days are far behind. Today, this segment has emerged as a definitive investment and growth opportunity among both investors and industry incumbents. The adoption of vertical SaaS is also increasing with a 2019 survey finding that 64% of respondents are either already using or planning to adopt these services over the next 12 months.
A mere 18% had no interest or plans to adopt industry cloud services. For tech entrepreneurs looking for the next big thing in the SaaS market, vertical solutions may well be the answer.The segment is definitely getting crowded, and barriers to entry are continually rising. However, there is a huge opportunity that can still be accessed with the right combination of industry-specific insights and technological innovation.
In need of a robust social marketing service? Talk to us here at The Inky Squid. For nearly 10 years we've been designing, implementing and managing content and social media marketing strategies for businesses across the tech industry. Get in touch today to find out more.